TW3
A downloadable Experiment for Windows
Why you shouldn't buy this game?
It's like those really expensive stores with no prices. If you have to ask then you probably can't afford it. In this case if you have to ask why you probably shoundn't...
Honestly, this is the product of one guy in his spare time. It's probably crap. It'll probably crash. Most of the art is still placeholder. Worst of all! There's only one SFX for button clicks... What a joke! Am I right?
Okay, lets be real. I get 5-10 hours a week, if I'm lucky, to work on the game. It'll be my second commerical game so I know how long this could take. Do you? But it's your money and despite the lack of polish the game is starting to get kinda fun! It will likely take several months to polish the combat and maybe another couple years to finish the trading/exploration side of things. So you're less buying a game and more supporting a process. And I'm not going judge you if supporting me tickles your fancy, nobody is perfect.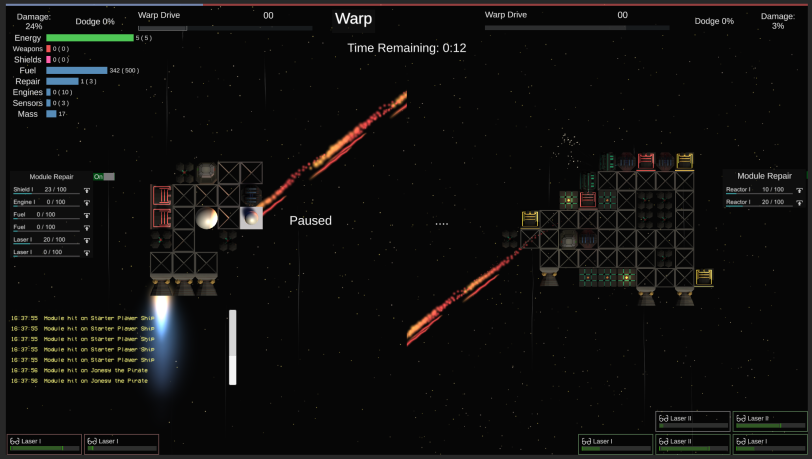 What's the game about?
The game is heavily inspired by FTL and Trade Wars 2002. The later is a game I loved as a kid (yes I'm that old) and always dreamed about making my own version. At the moment the game is just a slice what is hopefully to come. It's much more FTL than TW2002 at this point. I'm using this current slice of the game to iterate, evolve, and improve the ship to ship combat before jumping into and polishing the prototypes for a larger game about exploration, trading, building corporations and whatever else my pea sized ADD brain will dream up. There are prototypes, no really I pinky swear, but they're too ugly and rough to share except for on twitter, discord, youtube, reddit....
FTL serves as the main inspiration for the style of combat. Two ships on the screen trading blows hoping (and sometimes hopping) to disarm or discombobulate each other. The NPC ships are procedural and fairly dumb at this point, but they are still kicking my ass in playtesting.
Wait does that mean? Damn it, I knew my mom was wrong.
Whereas you the player...
Shit. You're might buy my game so I can't vouch for you either.
The player's ship is built chunk by chunk or module by module. The player can choose from structural, bridge, lasers, missiles, anti-missle, energy pulse, shields, engines and a few other types of modules. More will get added if I want. Or else they won't.
Combat is all about priorities. Keeping the fuel consumption rate reasonable, while powering the shields enough to absorb the incoming shit storm and still dishing out enough laser beams (sorry, no sharks attached) to slowly chip away at the enemies weapons.
Are you still reading?
Holy crap. That's some tenacity.
If you want to learn more about the game or give your two cents about the design come over to my discord. It's a small community and I know some of the game's best ideas won't come from me.
Patrons
This game is free to all my patrons. Yep. All of them. If you sign up for $1 a month, this game that I have the cojones to charge $10 for, is yours for free.
I was never good at math...
| | |
| --- | --- |
| Status | In development |
| Platforms | Windows |
| Publisher | My Credit Card |
| Author | OneWheelStudio |
| Genre | Strategy |
| Made with | Unity, Blender |
| Tags | Procedural Generation, Singleplayer, Space, spaceship, Trading |
| Average session | A few minutes |
| Languages | English |
| Inputs | Keyboard, Mouse |
| Links | Blog, Patreon, YouTube, Community, Twitch |
Purchase
In order to download this Experiment you must purchase it at or above the minimum price of $10 USD. You will get access to the following files: